Haryana orders culling of 1.66 lakh poultry birds in Panchkula, Farmers to be compensated @Rs90/- per bird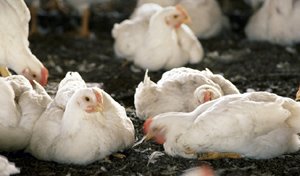 The Barwala belt is considered Asia's second largest poultry belt with a daily production capacity of 1 crore eggs. Two epicentres of the bird flu were identified as Siddharth Poultry Farm in Kheri village (Raipur Rani) and Nature Poultry Farm in Ganauli village (Raipur Rani).
Surprisingly, there were no signs of immediate control, prevention and containment even hours after the confirmation of the disease in the region, with no restriction on the movement of people. The bird culling operations will be done in the 1-km radius of the epicentres of the disease, declared as infected zone.
The culling will start tomorrow at 7 am. A 10-km surveillance zone — 0-3km active surveillance and 3-10 km passive surveillance — has also been declared where all shops and market dealing with poultry products and eggs will be closed till completion of culling and sanitisation operations. At least 59 response teams will cull 1.66 lakh birds in five poultry farms — Siddharth (1,728 birds), Narender (38,196 birds), Naveen (59,933 birds), Sunil (50,271birds) and Nature (16,000birds). The poultry farm owners will be compensated at~90 per bird.The movement of birds has also been restricted from these poultry farms.Animal husbandry officials claimed check-posts had been set up in the infected areas.
Meanwhile, the Health Department has launched a survey and awareness campaign in and around the infected areas in the district. Tamiflu tablets are being distributed to workers in poultry farms. Tamiflu is typically taken for 10 days – 1 tablet per day.
People are being screened for fever and other symptoms. Those developing influenza-like symptoms will be isolated at the Community Health Centre in Raipur Rani. Officials said the H5N8 virus was not fatal for human beings. However, mutations might occur and the virus could be transmitted to human beings.